Road-Rail vehicle DAF XF DUO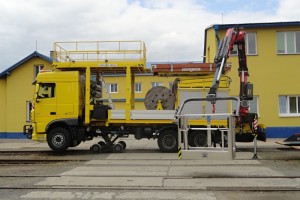 Road-Rail vehicle DAF XF DUO is equipped with fixed working platform, scissor type elevating platform, hydraulic loading crane and device for pulling contact wire. Scissor type elevating platform NP 400 allows full unlimited rotation around its axis. The platform is remotely controlled, in the emergency mode it can be controlled from an emergency control panel. The vehicle is designed for ride on rails, with its rail gears quickly adjustable for railway gauge of 1435 mm or 1520 mm (adjustable gauge). Hydraulic loading crane of 22tm capacity is located at the rear part of the vehicle. The crane is equipped with winch and working basket for two operators.
The vehicle is driven by means of friction system, i.e. by friction of its rear tyres on the rails. The vehicle is equipped with two-axle rail gear in front, behind the front rear axle, and single axle rail gear at the rear, behind the rear road axle.
The vehicle is equipped with CCTV cam system and colour LCD display in driver's cab for safe reverse ride and with railway lights and illumination for work at night. All operations on rails are controlled electrically from the driver's cab, rail gear functions are automated and monitored. The selected functions are displayed on board computer.