Multipurpose communal vehicle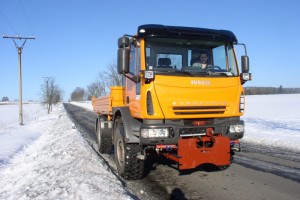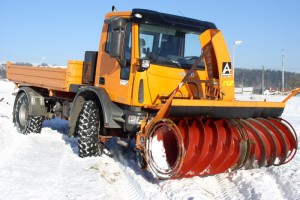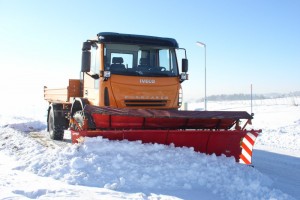 Multipurpose carrier of tools is designed for maintenance of roads and urban areas both in summer and winter time. The mostly used superstructures include snow plough, sprayer of chemicals, washing unit for cleaning of road signs and signposts, snow cutter, arm mower, self-collecting sweeping unit, etc.
Iveco Euro Cargo 4×4 was a base vehicle for conversion to the multipurpose carrier of tools and superstructures. Drive assembly was equipped with reversible gearbox for ride at slow speeds, independent connection for drive of superstructures, both hydraulically or mechanically controlled with capability of full engine power output transmission. Vehicle is equipped with system of communal hydraulics for drive and manipulation with superstructures, front multipurpose plate, inner-frame, event. platform body modified for mounting of superstructures, emergency beacons, additional work lights, event. rear hydraulically controlled three-point linkage. Control of crawling speeds, drives and hydraulics is located in the driver's cab within driver's reach, so as no other operator is needed for manipulation.
One of the advantages of this multipurpose communal vehicle is a quick change of superstructures for operation and work. The necessary equipment can be changed several times a day, without using a lifting mechanisms. The vehicle can be used all the year round and supplies a number of single-purpose vehicles and tractors. Expenses on vehicle charges and maintenance of stock is saved.