Tandem trailer TP – 18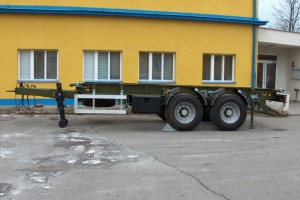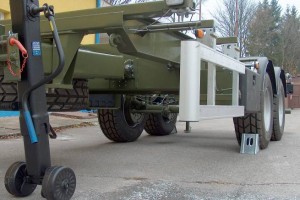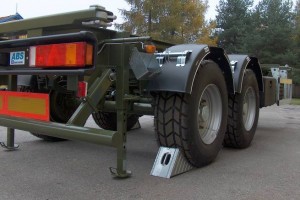 Tandem trailer with central axle equipped with parabolic springs. Trailer has firm vertically adjustable tow bar with eye of 50 mm or 40 mm diameter, absorbing vertical and horizontal forces during ride and braking. Towed vehicle must be equipped with coupling for trailer with central axle of total weight of 18 t. Frame is equipped with four swivelling ISO locks for container superstructure (platform trailer, body, container, dwelling unit, etc.).
Trailer is equipped with two cases for tools and equipment, spare wheel, lay-by supports, rear tiltable clearance barrier and side clearance barriers. Towing eye height is adjustable by means of bolts on fastening plate 1000 ± 100 mm above the ground when loaded. Connecting hoses of air brake, ABS and electric installation cables are installed on tow bar. To be locked while transported on rails as well as while rescuing, trailer is equipped with locking hooks at the front and at the rear, fastening wheel machinery on waggons.