Véhicule Rail-Route CONTILINER IC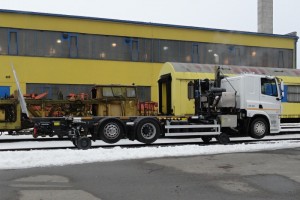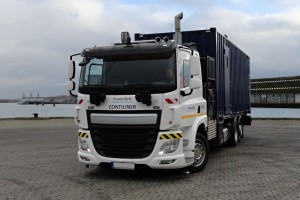 Road-Rail vehicle is equipped with container platform superstructure with ISO locks. Hydraulic lifting device is installed at the rear of the vehicle. The vehicle is equipped with Rettbox, disconnecting air connections and accumulator recharging automatically. The Road-Rail vehicle is designed for running on rails with rail gauge of 1435 mm.
Front rail gear as well as rear rail gear are two wheeled type and are located behind the road axles. Vehicle is equipped with hydrostatic drive. The movement of mechanisms is hydraulic and is controlled electrically from the side control panels located on the vehicle or from the driver´s cab.
For the reverse drive, the vehicle is equipped with CCTV cam system and with colour LCD display in the driver´s cab. The vehicle is equipped with illumination of rail gears, incl. lights for work at night.