RENAULT MIDLUM – 2NP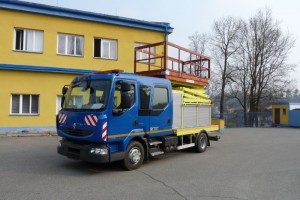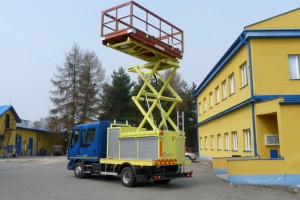 Renault Midlum – 2 NP is a special road vehicle equipped with an insulated elevating platform and a tools space below. The vehicle is designed for maintenance operations, transport of material, repairs of tramway or trolleybus catenary lines under live OLE, in compliance with all safety requirements. The vehicle can be used for all repair operations with the platform in raised position (lights repairs, maintenance and surface treatment of steel frames, etc.).
The scissor-type elevating platform 2NP 400 enables full unlimited rotation around its axis. Boxes for material and tools are installed in the platform bottom. The whole platform can be equipped with lights for nightwork. The platform can be equipped with electrodrive supplied from auxiliary batteries for operations when the engine is stopped. The platform is controlled by means of remote control; emergency cable control can be used in case of failure. The vehicle can optionally be equipped with CCTV cam system, searchlights controlled from the driver's cab, etc.