Road-Rail vehicle S DUOTRAM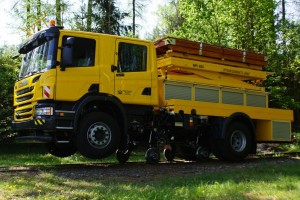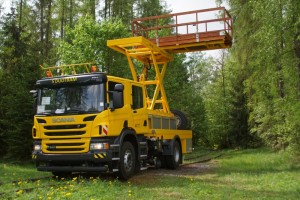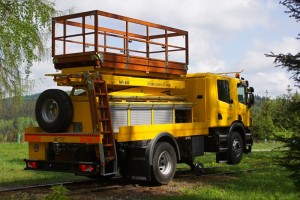 Road-rail vehicle S DUOTRAM is equipped with insulated elevating work platform and stowage compartment. The vehicle is designed for use and driving on road as well as for use and running on rails of tramway tracks, to carry out maintenance operations, transport of material, work on catenary lines, etc., under live OLE, and in compliance with all safety requirements.
The advantage of the vehicle is a large double cab for 6 operators including the driver.
Scissor type elevating work platform NPi 400 enables unlimited rotation around its axis. Horizontal reach, size, and loading capacity of the platform meet the demanding requirements for overhead line maintenance. The platform is controlled remotely and can also be controlled by means of emergency control panel.
Power transmission on rails is effected by means of road tyres. The vehicle is equipped with CCTV cam system for safe reversing and LCD display in driver's cab, railway lights and as well as lights for work at night. All operations on rails are controlled electrically from the driver's cab, rail gear functions are automated and monitored.