Railway machinery – SMK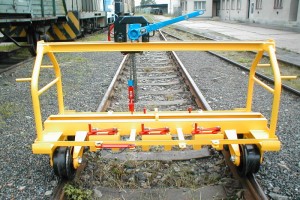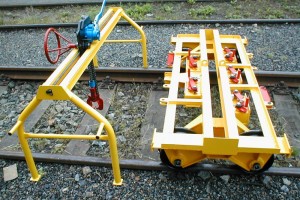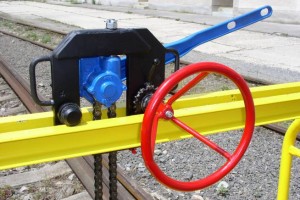 Small gantry crane RKJ 750p is a successor of the original gantry crane designed for lifting, transportation and removal and laying of rails ZPK – 56 ("MAMATEJ"). Gantry frame of the crane is welded of steel profiles, frame tubes and plates. Chain block made in compliance with CSN 270141 is used as a lifting device. Lift and lowering is controlled by means of hand lever, as a successor of the original chain drive. Tackle is installed in trolley frame, equipped with drive pulleys. For the minimal forces necessary to drive the trolley, the pulleys are installed on roller bearings. Tackle trolley is moved on the frame structure by means of hand wheel with small chain wheel, fitting into roller chain installed in the gantry crane frame. This prevents chain damage while manipulating RKJ 750p on workplace.
Tackle trolley position on the frame structure drive track is adjustable within the whole length of the drive in steps of 13 mm. Tackle trolley is secured against moving out of the frame structure by means of holder. Gantry crane is equipped with a low four wheel carriage with five suspensions to lift the transported rails and mobile gantry crane positioned on the carriage. Carriage and gantry crane unit is transported either by driving vehicle, operation truck, or engine trolley by means of rigid coupling. While transporting the rails, the unit is used mostly on short distances.