Railway machinery – PKP 25/20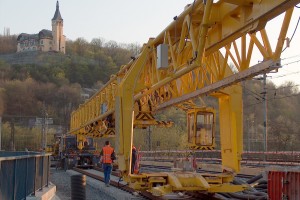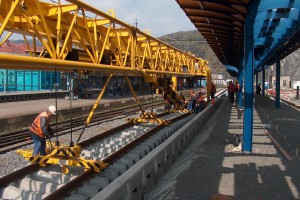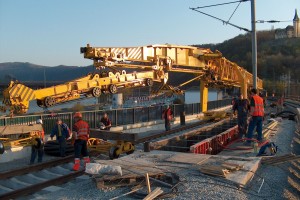 Track layer PKP 25/20 is a special bridge crane designed for laying and removing of 25 m long (and shorter) railway tracks on wooden or concrete sleepers and of maximum weight of 20 tons. TATRA T 815, event. T 148 can be used as a towing vehicle converted for ride on rails. Device is designed for work on straight rails or in railway bend of minimum bend radius of 200 m, on track gauge of 1435 or 1524 mm, different gauge possible – according to customer's requirements after conversion.
Track layer can be used during building of bridge constructions, mainly for laying of IP girders. Weight and dimensions of bridge constructions are crucial parameters when girders are laid. During laying of IP girders carried by the device between the towing vehicle and carrier, maximum width of weight may not exceed 2800 mm and maximum height may not be greater than 2400 mm including suspension.