Road-Rail vehicle IT DUOLINER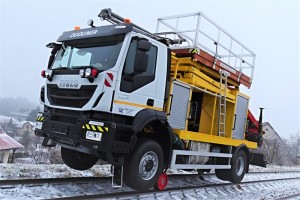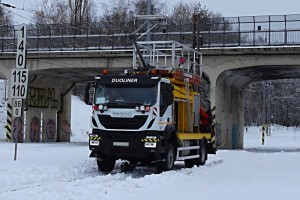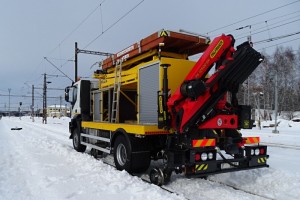 Road-Rail vehicle IT DUOLINER is equipped with scissor-type elevating work platform, designed for maintenance operations on railways, hydraulic loading crane, installed at the rear of the vehicle, and measuring pantograph.
Double-scissor elevating work platform NP 400 enables unlimited rotation around its axis. Horizontal reach, size, and loading capacity of the platform meet the demanding requirements for overhead line maintenance. The platform is controlled by radio remote or emergency control.
Power transmission on the driven rail wheels is hydrostatic, by means of pump and hydraulic engines. The vehicle is equipped with CCTV cam system for safe reversing and color LCD display in driver's cab, railway lights and as well as lights for work at night. All operations on rails are controlled electrically from the driver's cab, rail gear functions are automated and monitored, and displayed on board computer.