Railway machinery – KOP 6/3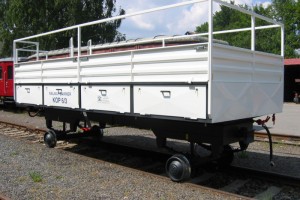 Railway carrier KOP 6/3 is a specially designed railway vehicle without self drive, designed for mounting operations, transporting of materials and tools to the workplace.
The carrier can suitably be used not only during mounting operations, transporting of ballast, sand, piece material (sleepers, posts, track fastenings, etc.) but also for transportation of larger pieces with the weight of up to 3 tons. For its large lockable stowage space, the working tools are permanently at disposal.
The railway carrier consists of the lower part made of a base frame, with four leaf springs and two axles mounted within consoles. The railway carrier has railway wheels with jaw brakes on the axles. The upper part consists of boxes for tools in the lower part with a wooden floor above. Long sides are made of tiltable side plates. The rear part is made of a firm side plate, the front side consists of a firm ladder with steps and firm side plates. A tiltable platform is mounted in the middle with tiltable handrails. The upper part is equipped with firm handrails on all sides. The air (brake) system is an essential part of the vehicle.